new art & GIVEAWAY
November 07, 2013
Miracle to miracle is how I have been living.
Just back from Arizona, I am happy to report
my mom is recovering nicely from surgery
and is in remission...
resembling a pixie-hot Mia Farrow!
So so so grateful.
For years, it was services I sold
(academic tutoring, consulting,
writing)
so I'm still virginal as to selling goods
...
let alone peddling on this blog.
I'd love to share some affordable art I
have been
happily selling on and
offline.
For a recent art show in downtown Barrington
(So fun! Thanks for having me, Katie),
along with abstracts on canvas, I created
collages on paper and necklaces inspired
The sterling chains were a hit and are now in the shop.
To celebrate the launch, a Giveaway!
I'm giving away a collage and a necklace.
2 winners will be announced Monday, Nov. 18th.
Both items will be custom, one of a kind,
created especially for you
according to your preferences.
Open to everyone on planet earth...international? YES.
For chances to win, simply
visit my shop and leave a comment
at the end of this post saying you did.
For 5 bonus entries, simply
like Hello Lovely
on Facebook and let me know in a comment y
ou did.
That's 6 chances!
Sterling Soul Chains
You can read about the concept
and inspiration for the collages in the shop.
Collage
I used quality materials for these
feminine, soulful mixed media collages.
Fine Fabriano Mediovalis Italian paper,
vintage lace from Paris, silk, linen,
cashmere, and vintage pointe shoe satin.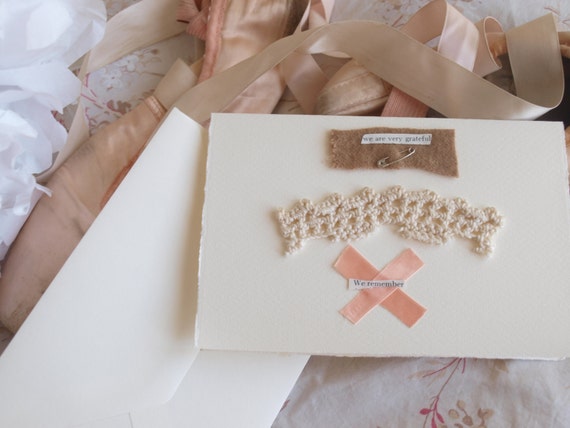 Collage/Note Card
You may notice my signature safety pins,
'X's, and torn text.

Freelance writing schtuff:
I'm also expanding my writing services.
If you or your business should require
a blogger, ghostblogger, editor,
speech writer, article writer, author,
or creative dynamo wired for words,
please do email me.

Back to the personal:
I feel as though I have finally found a pocket of
sweet peace in which to begin writing about
which have chilled
and widened my soul.
Creating art pieces was a
baby step,
yet this step alone feels
like a small miracle.
Thanks for listening and for
Peace to you right where you are.